Michael J. Krupa, D.C., CCSP®, ATC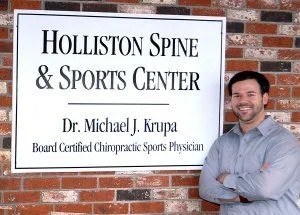 Dr. Krupa was born and raised in Rhode Island and graduated from Coventry High School in 1998 before pursuing his college career. He went on to receive a B.S degree in Athletic Training from Keene State College in 2002. He later received his Doctor of Chiropratic degree from New York Chiropractic College in Seneca Falls, NY in 2005. He has been licensed as a chiropractor in Massachusetts since 2005 and was licensed in Rhode Island from 2006 - 2015.

Dr. Krupa has a passion for and an extensive background in sports medicine. This began as an athletic training student and continued while at chiropractic college. He has interned under many well-known doctors working with teams and at events including:
Buffalo Bandits Pro Lacrosse, NLL 2004 - 2005

Buffalo Gladiators Semi-Pro Football, NY AFL 2005

USA Jr. Tae Kwon Do Championship medical staff 2005

Special Olympics Volunteer in RI, NH , and NY

Rogers High School Football medical staff volunteer, Newport, RI 2006
Recently, as of June 2010, Dr. Krupa has earned the designation of Certified Chiropractic Sports Physician® (CCSP®) by the American Chiropractic Board of Sports Physicians™ (ACBSP™). To learn more about this certification, please check out www.acbsp.com.
He is a member and in good standing with the American Chiropractic Association (ACA), www.acatoday.com, and the ACA Sports Council, www.acasc.org.
He is also currently certified as an athletic trainer (ATC) and CPR / BasicLife Support for the Healthcare Provider. As a student, and since graduation, Dr. Krupa continues to increase his knowledge in several subjects such as :
Laser Pain Relief

Concerned Parents of High School Athletes

Advanced Athletic Assessment

Clinical Application and Neurology of the Vertebral Subluxation Complex

Enhancing Golf Performance

Backpack Safety

Orthopedics

Functional Bracing

Advanced Extremity Adjusting

Functional Orthotics

Core Stabilization